Partnership applies genome search engine to 7,000 grapevines
A new partnership revealing the genetic secrets hidden in 7,000 grapevines are yielding clues that could make the U.S. grape industry more resilient and deliver new kinds of grapes to benefit growers and consumers alike.
Breeding Insight – a U.S. Department of Agriculture (USDA) project that provides cutting-edge resources to specialty crop breeding programs – and VitisGen2 – a multi-institution research collaboration led at Cornell AgriTech to develop new grape varieties – are jointly funding an effort to map the genomes of two extensive grapevine germplasm collections at Cornell AgriTech in Geneva, New York, and University of California, Davis, curated by the USDA's Agriculture Research Services (USDA-ARS). The goal is to make the data available to public and private plant breeders.
Using the 'rhAmpSeq' platform developed by VitisGen2, each sample will have 2,000 DNA markers spanning all 19 grapevine chromosomes, allowing more detailed comparisons of genetic traits than was ever possible before.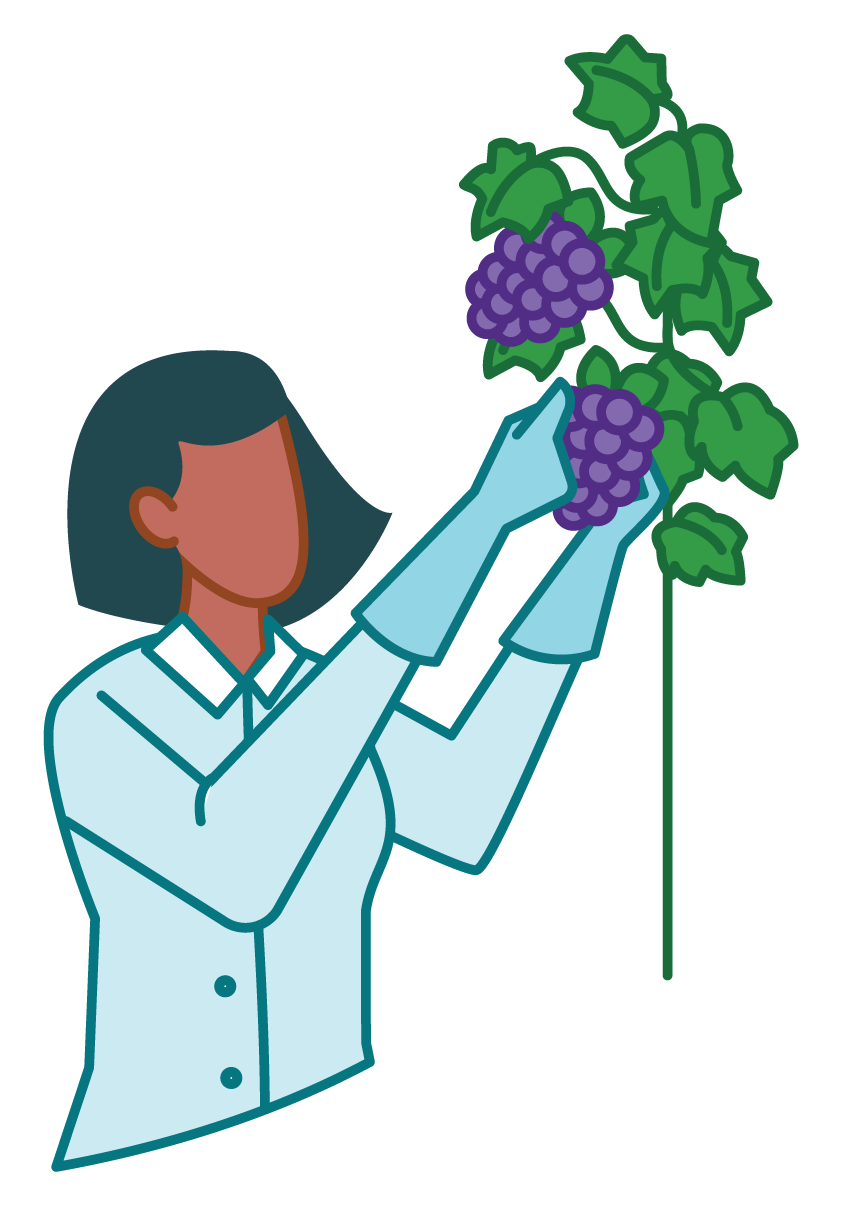 in economic activity ($) is generated by the U.S. grape industry.
"In the end, we will have the most detailed genotypic dataset for grapevine ever created," said Moira Sheehan, Breeding Insight project director.
The extensive collections curated by USDA-ARS are treasure troves for the grape industry and the numerous products it supports, including wine, jams, fresh fruit and more, in a growing economic sector worth more than $219 billion and a major industry in California, Washington, New York, Oregon and Texas.
Lance Cadle-Davidson, VitisGen2 project co-leader and a USDA-ARS geneticist based at Cornell AgriTech, cited benefits to characterizing the germplasm collections.
"One of the reasons to do this is to discover what genetic diversity in Vitis exists out there," Cadle-Davidson said. "If we can capture all that genetic diversity, it will actually speed up our analysis of breeding lines and help us identify the genetic basis of desirable traits."
"It's akin to Google going out and scraping words from all the websites so that they can run their search algorithms faster," he said.
To date, the two VitisGen projects have discovered more than 70 DNA markers identified in grape genes for fruit quality and disease resistance traits – results the VitisGen projects are leveraging into improved processes and data sets with the support of Breeding Insight.
"Cheng Zou from VitisGen and Dongyan Zhao of Breeding Insight both developed marker-assisted selection pipelines," said Cadle-Davidson. "We wanted an objective way to process the data and provide statistical and quantitative predictions, where before we were just looking at DNA marker data subjectively."
"There is tremendous value in capturing the art of breeding in a database for modern analytical tools to predict why the artist was successful – what traits were selected, and as importantly, what failed," he said.
"How do I talk to a breeder who's about to retire and convince them to use these [informatics] tools?" Sheehan said. "They need to be able to hand off to the next person to continue the development and understand the context of the 35 years of work they have done.
"If I can convince them to put something in a data management system and secure their data, it then becomes accessible to other people."
VitisGen2 is funded by USDA National Institute of Food and Agriculture's specialty crops research initiative. Breeding Insight is funded by USDA-ARS through a grant to Cornell.
For additional information, see this Cornell Chronicle story.
Sign up for the Breeding Insights Newsletter
Error: Contact form not found.